Dining at Loon Lodge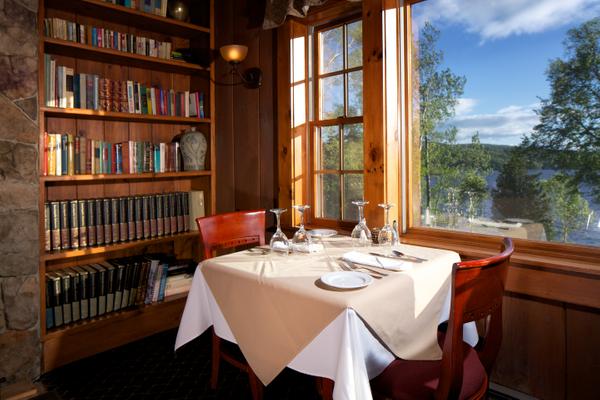 The dining room at Loon Lodge
A casual and intimate setting for you and your guests to indulge in a variety of dishes created by Chef Payson. Experience dining that reaches far beyond just food & drink. The Loon Lodge Restaurant specializes in New American Cuisine, prepared with the freshest ingredients (seasonally available) from local growers.

Begin your meal with a choice from our Wine List; offering selections meticulously chosen to enhance each entrée from our Dining Room Menu. We also offer an excellent selection of locally brewed beers, national brand beers and an extensive cocktail menu.
All of our food is crafted from scratch. We use locally sourced proteins and produce; natural and organic when available. Our steaks are hand cut and our burgers are our own fresh grind of steak, grilled on our apple wood fired grill.
You'll find no better choice in the Rangeley area.
See our menu below for dine-in or take-out. Make sure to leave room for our delicious and renowned desserts.
We promise you that our professional staff and attention to detail will make your evening with us memorable.
Enjoy!
Function Room
The private function room located on the lower level with its own full bar and patio area will accommodate up to 50 guests. This area overlooks the perennial gardens and lawn with views of the lake and mountains.
Private Dining Room
Our cozy, private dining room is an ideal setting for a small family gathering or special celebration. Accommodating up to 16 guests, the room is tastefully decorated in warm reds, natural woods, has a lofted ceiling and of course, views of the lake. You have the option to order from the menu or pre-arrange a special menu with our staff.
For parties of 6 or more, to ensure all of our guests are served to the best of our ability, we reserve the right to present one dinner check per table. A 20% gratuity is automatically included.
The Loon Lodge Inn & Restaurant recognizes that it is a privilege to buy and sell alcoholic beverages in the State of Maine and with that privilege, realizes that it is our legal and social responsibility to comply with all Maine laws, rules and regulations and follow best practices as they pertain to the service of alcoholic beverages.